Fibreglass Roofing In Oxfordshire, Wiltshire, Hampshire
At Flat Roofers Basingstoke, we're proud to offer excellent Fibreglass roofing services in Oxfordshire, Wiltshire and Hampshire. Our dedication to quality means we only use the best materials. This promise ensures both longevity and durability for the roofs we install. We don't just aim to provide a quick fix, instead, we believe in giving properties a whole new lease of life with roofs that are designed to withstand the tests of time.
Our work is industry-approved, so when you choose our services, you're choosing a trusted, reputable provider. A new roof from Flat Roofers Basingstoke is an investment in peace of mind.
Andover GRP Roofing Specialists
With many years of hands-on experience under our belts, our dedicated and professional team in Oxfordshire are bona fide specialists in the delivery of quality Glass Reinforced Plastic (GRP) roofing systems.
At Flat Roofers Basingstoke, quality is at the heart of everything we do and we take immense pride in getting the job done correctly the first time around.
Even better, we do all these while ensuring we work within your set budget. Our reliable team is well-equipped to cater to all your GRP roofing needs, guaranteeing satisfaction every time.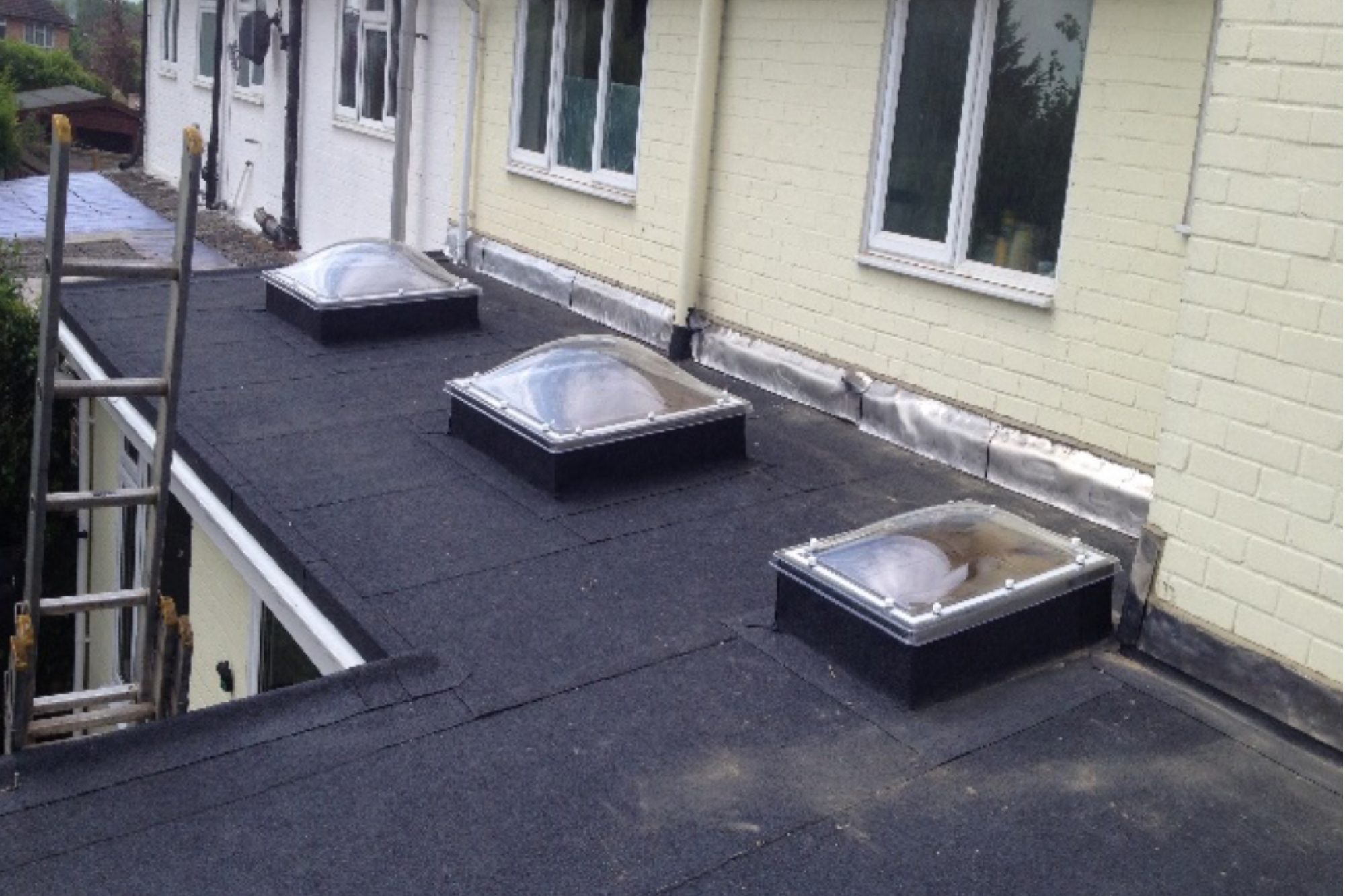 Andover Flat Roofing Services We Offer
Our skilled team, based in Andover, provides diverse flat roofing services. We can competently handle everything from Felt and EPDM roofing to Fibre Glass and Liquid Coatings. We cater to a wide range of industries and are always ready to undertake new challenges.
At Flat Roofers Basingstoke, our prime goal is to deliver quality service that ensures customer satisfaction and gives you peace of mind. We take care of all your roofing needs, ensuring durability and quality accompanied by thorough professionalism. Trust us to provide you with efficient, reliable and affordable roofing solutions.

GRP Roofing
At Flat Roofers Basingstoke, we specialise in GRP (Glass Reinforced Plastic) roofing. Our team of experts have outstanding knowledge and skills in this field, ensuring your roofing needs are met with professionalism and accuracy.
Choose us for top-notch GRP roofing services. Contact us for more information.
EPDM Roofing
At Flat Roofers Basingstoke, we pride ourselves on offering reliable and cost-effective EPDM roofing solutions. Our team of specialists are always on-hand to provide expert advice and high-quality workmanship.
We're committed to delivering a service that not only meets but exceeds your expectations.
Felt Flat Roofs
At Flat Roofers Basingstoke, we specialise in the professional installation and repair of felt flat roofs. Our skilled workers ensure top-quality workmanship and excellent customer service.
Contact us now, we'd be delighted to assist you.
UPVC Fascias
Providing a variety of UPVC fascia services to protect and enhance your property. At Flat Roofers Basingstoke, we specialise in the professional installation and repair of UPVC Fascias.
Our skilled workers ensure top-quality workmanship and excellent customer service. Contact us today.

Quality Roofing Materials
Flat Roofers Basingstoke is dedicated to using only prime-quality materials in our work. We understand that such materials guarantee resilience and longevity, promising you supreme value for your investment.
Our commitment is to offer you the best, ensuring a product that withstands time and use, providing you with years of fulfilment.
Flat Roofing Repair
Our team at Flat Roofers Basingstoke holds immense expertise and experience in diagnosing and solving all problems related to flat roofing.
From minor repair tasks to comprehensive roof renovation, we handle everything ensuring top-notch quality, swift completion, and affordable pricing, while adhering to the highest industry standards.
Our Locations
Do you require a new flat roof installation in Oxfordshire, Wiltshire, Hampshire and/or the surrounding areas? Trust our expertise for a professional and efficient service that guarantees satisfaction. At Flat Roofers Basingstoke, we prioritize the quality of our work and ensure your roofing project is completed to the highest standards.
With our adept team and superior materials, we've got your roofing needs covered. Entrust your flat roof installation to us for a stress-free experience.
Please Note: If your location isn't specified here, please feel free to get in contact with us as we maybe able to cover your local area.

Flat Roofing Repair & Maintenance
At Flat Roofers Basingstoke, our dedicated team not only specialises in a multitude of installation services but is also fully equipped to provide thorough repair and maintenance services. We are strong believers in proactive care, preventing potential issues before they can occur, as this extends the overall lifespan of your roof.
Our priority is professional customer service and efficiency. We endeavour to offer swift and highly effective solutions, ensuring that your requests are dealt with promptly and to a high standard. Whether your roof requires a detailed inspection, a simple repair or a full installation, you can count on Flat Roofers Basingstoke to provide quality roofing services in Andover. We're ready and waiting to help you.

Local Roofing Company
Based in Andover, we are a local roofing company that carries a strong reputation as a pillar of professionalism and quality, built over a span of 34 years.
Thanks to years of dedication and hard work, we are proud to call ourselves a trusted name in the local community. Our commitment is towards providing a personalised service that meets the unique needs of each of our customers.
This commitment is backed by a rich history of satisfied customers and successfully completed roofing projects. No matter the complexity or scale of your roofing project, trust us to execute it with the highest level of proficiency. You can always count on us for prompt, dependable, and quality service.

---
If you are looking for flat roofing contractors in the Andover, Basingstoke or Winchester areas, get in touch today. Call 01264 551 007 to discuss your roofing project today.