How Do You Maintain A Flat Roof On A House
Posted by:
Admin
Tags:
Posted date:
25-04-2022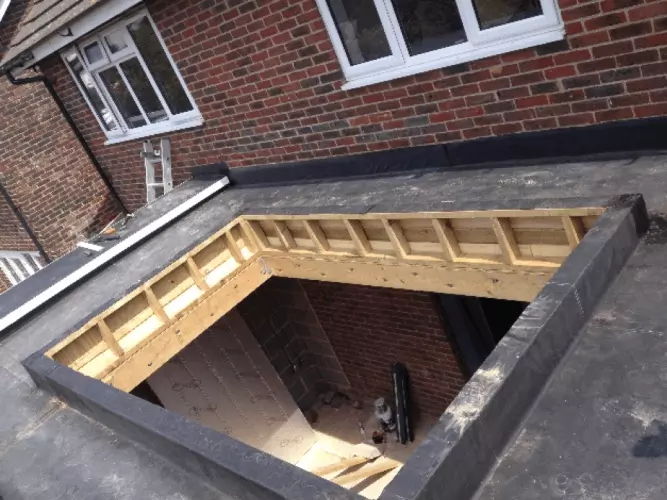 How do you maintain a flat roof on a house? We look at the top tips for flat roof maintenance and increasing your flat roof lifespan.
How Do You Maintain A Flat Roof On A House?

As a homeowner searching for the best new roofing material for your home or property, you may wish to know how best to maintain a flat roof. The expert advice from flat roof specialists and installers is relatively straightforward; however, there are always going to be worries from all ends about whether or not you should buy a home with a flat roof.
Many homebuyers find they are reluctant to purchase flat roof properties or those buildings with extensions or garages that have flat roofing. The reason is typically due to the regular maintenance issues that crop up.
However, suppose you can consistently ensure that your property and type of roof are properly maintained. In that case, you can avoid any repairs and significant issues, and therefore you don't have to be nervous or reluctant about buying properties of such kind.
Before purchasing flat-roofed property, you must ask the previous owners or home sellers whether they maintained it efficiently. Ask to see a complete survey of the home from its previous inspections; these reports tend to highlight any significant issues to be aware of. If the potential issues raised by the surveyor are particularly expensive, the survey could be regarded as invaluable.
TIPS FOR FLAT ROOF MAINTENANCE
Flat roofs are a prevalent choice for many UK homeowners for various reasons. These roofs are incredibly durable and straightforward when repairing, and with regular attention, they can be easy to maintain.
Pea shingle flat roofs are reasonably priced, making them quite cost-effective; they are sturdy and, with good maintenance levels, can be relatively long-lasting.
Manufacturers have designed flat roofs to last; however, they require a little maintenance work to ensure they stay in great shape and condition compared to other roofing materials.
Try to keep maintenance sessions annual or as regular as possible; that way, you will be less likely to pay costly prices for flat roof repairs.
EXPERIENCED INSTALLER
Please do your best to find the perfect company to install your brand-new flat roofing, as some of the best, most skilled installers will be able to provide you with guidance on how to care for and maintain it.
We recommend doing plenty of research into the top-quality roof installers to give you peace of mind that your roof is fitted with high-quality materials in the safest possible way.
ANNUAL SERVICE
We highly recommend hiring a skilled professional with plenty of experience in carrying out yearly roof servicing at least once or twice a year.
Roof services often entail a local roof specialist inspecting your roof on both the inside and outside to provide homeowners with various solutions to any problems they spot.
Often, there aren't many issues that require fixing; however, annual servicing is vital to help offer the reassurance and maintenance you need. Inspect your roofing as soon as possible after the winter and summer months to assess whether such moisture has caused any cracks or further issues that need to be repaired.
ROOF INSPECTIONS
We highly recommend that you try and carry out consistent and regular flat roof inspections; you can do so yourself or through the means of an experienced professional, as this will help you avoid the need for any drastic repairs in the future.
Be sure to schedule your inspections two-three times a year to allow yourself to keep up with sufficient roof maintenance. If you uncover any issues, you can hire a professional straight away.
The best time to hire professionals to carry out an inspection is in the early autumn-spring period; doing so will allow them to check whether the harsh cold of winter or intense summer heat had had any drastic effect or more damage on your roof.
The sun's rays and melting snow can do further damage to your roof and its life expectancy than you may think; surface material maintenance is key to avoiding costly repairs.
During a standard roof inspection, you or your professionals must search for missing roof shingles, signs of rot and decay, clogged gutters, and damaged drainage systems.
For individuals who do not feel comfortable or knowledgeable enough to conduct inspections independently, it's best to seek out the best local roofing contractors in your area.
Many of them will be happy to take on such tasks for you, so please feel free to give them a call on the company number or send them a message via email for a written estimate.
OVERHANGING TREES
For those with trees hanging over their roofs, you'll want to hire a high-quality, talented arborist in your local area to trim the branches down before they scratch or scrape your roofing material and damage it in various ways.
We do not recommend that you take on such tasks yourself; this is not the kind of task you should DIY, especially if you have a relatively high roof. Such attempts can be unsafe if you are not professionally trained.
ROOF GUTTERS
Numerous aspects can lead to damage when you have flat roofing coverings for your household or property; clogged gutters are detrimental and can lead to your roof's leaking through the ceiling.
It is paramount to ensure that all debris, moss, fallen leaves, sludge and dirt from your roof gutters is regularly cleaned out to avoid leakage issues, especially after harsh weather, like rain or heavy snowfall or a bout of consistently bad weather, which you are likely to suffer from in specific locations of the UK.
Insuring a property that has a flat roof
Additionally, you may discover that a wide range of home insurance firms are often reluctant to offer insurance for any property with flat roofs due to the worries about their lifespan and the ongoing maintenance they require for adequate upkeep.
There have even been instances when previous owners of a household with a flat roof have left behind issues with the roofing for the subsequent owners or tenants as they failed on proper maintenance.
As a homebuyer, you may find that you need to utilise the assistance of a non-standard broker that deals with home insurance, as they are more likely to provide home insurance coverage that is more relevant to the home you're purchasing.
Flat roofs can offer a longer lifespan than you may think. However, the key is because they are often made of weaker proofing materials that need plenty of upkeep to allow them to stay strong and durable, for example, asphalt, EPDM rubber, felt and GRP fibreglass. you or professionals must correctly maintain them
There may be a few alternate reasons, aside from installing flat roofs onto extensions and garages, why flat roofing must be constructed. The reason could be that your local planning regulations could pose a restriction on pitched roofing in your area.
Suppose there's a possibility that pitched roofs or other roofing styles could obstruct the sunlight or view from a neighbouring garden or backyard. In that case, local councils and authorities will encourage you to select a roof style that is better suited to the surroundings.
A property extension may also utilise a flat roof, but only if it butts up to your household or property building, matching it somehow. Some properties with much older asbestos coverings have had to be replaced with more modern flat roofs for health and safety reasons and to comply with the building regulations.
Lifespan
One of the most significant issues and worries about any flat roofing structure is its shortened lifespan, often due to improper maintenance.
Typically, a flat roof's lifespan depends mainly on the materials you have chosen and those it has been manufactured with.
For example, those manufactured with felt-based or asphalt coverings are often the least durable, especially when comparing these materials to more modern options like EPDM (Ethylene Propylene Diene Monomer).
Problems
Felt flat roofs are often prone to considerable damage such as blistering, splitting and ponding.
When your roofing has not been efficiently maintained or has received damage from someone walking on it, splitting can occur splitting results from immense or frequent stress, pressure, thawing, and poor workmanship on your flat roofs.
Many professionals will utilise bitumen adhesive to repair splits on asphalt or felt flat roofing as a means to seal the splitting; however, you must keep a watchful eye on the roofs afterwards to ensure that it does not tear again.
Ponding is the effect of stationary water pooling that stays for long periods and never drains away off the edges like it may on a pitched roof or dry out.
Often you may require a pump that will automatically work during times of harsh or wet weather in problem areas. You may wish to employ professionals to fit new drains or carry out essential repair work to prevent further ponding and water damage.
Blistering can occur when air gets trapped between the felt layers of your flat roofing material.
When the air inside begins to warm up, it can cause blisters and puncture wounds that eventually split your roofs. In some cases, blistering could appear in areas of water if your roof suffers from ponding or generally during rainy or snowy weather, and it could result in leaks as water passes through the layers.
To fix immense blistering issues, you should call up a talented professional so that they can ensure the seal is wholly maintained.
---
Are you looking for a flat roof specialist in Andover, Basingstoke or Winchester? If you find yourself in need of a replacement flat roof, don't hesitate to contact Flat Roofers Basingstoke today! We have staff on hand to answer any questions you might have.