Flat Roofing Installers Basingstoke
We'll discuss all your residential and industry requirements with our Basingstoke customers over the phone or on an in-person visit and ensure that you, as the homeowner, consent to all design plans and schedules before we begin working on your local flat roof.
Flat Roof Construction is our speciality. If you're looking to find high-quality brands and roofing services in Basingstoke, Hampshire, Andover and the surrounding areas, you're in the right place.
We're here for all of your relevant roofing needs. Our family-run Flat Roofers Basingstoke team pride itself on offering a full range of professional roofing jobs and building services with a high level of first-class workmanship.
Flat Roofing Options
Are you working on a project that requires a flat roofing system? Choosing the best quality roofing material for your given project is always essential to ensure constant protection and a long life span. There is a wide variety of materials to choose from on the market, for example, metal roofing, GRP fibreglass roofing, EPDM rubber roofing, felt roofing, etc.
At Flat Roofers Basingstoke, specialists understand the challenges you might face in selecting the best roofing material for your project or property, which is why we are here to help.
Although the term flat roof suggests a flat surface, flat roofing is usually not done on a purely horizontal surface. Instead, installers must include a slight angle to allow rainwater to flow through the guttering to avoid flooding.
One of the most prominent flat roofing materials is single-ply roofing systems. Particularly advantageous if the property or project has load-bearing considerations and weight.
Single-ply roofing membrane is durable, long-lasting, and resistant to European climate conditions, punctures or tears. All the while, it is incredibly lightweight, which is often why it is a popular choice.
When it comes to covering a flat roof, there are myriad options you can choose from. In addition to the expansive roofing material types available, you also have a wide range of roofing techniques at your disposal. Some of the methods include:
EPDM Rubber Roofing
Ethylene Propylene Diene Monomer (EPDM) roofing was introduced in the UK and Basingstoke not too many years ago, but it has increasingly become a popular roofing method.
The method involves a type of synthetic rubber made from recycled materials.
EPDM has gained popularity among the UK populace, partly because of its durability, competitive pricing, warranty guarantees, and ability to handle foot traffic. Besides these advantages, EPDM rubber is highly waterproof, UV resistant and easy to cut and install. In addition, EPDM rubber installations boast a life span of over 50 years after installation.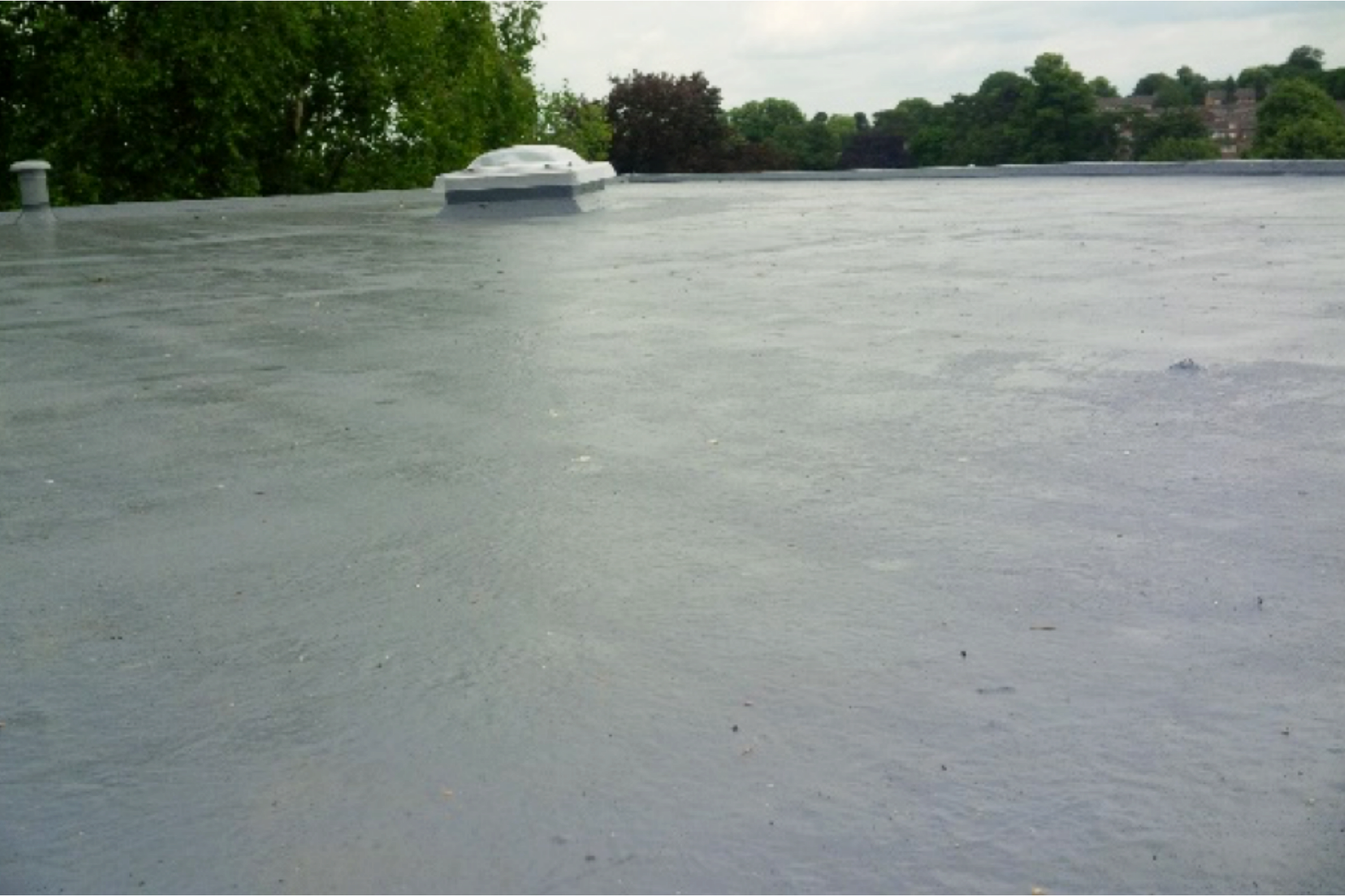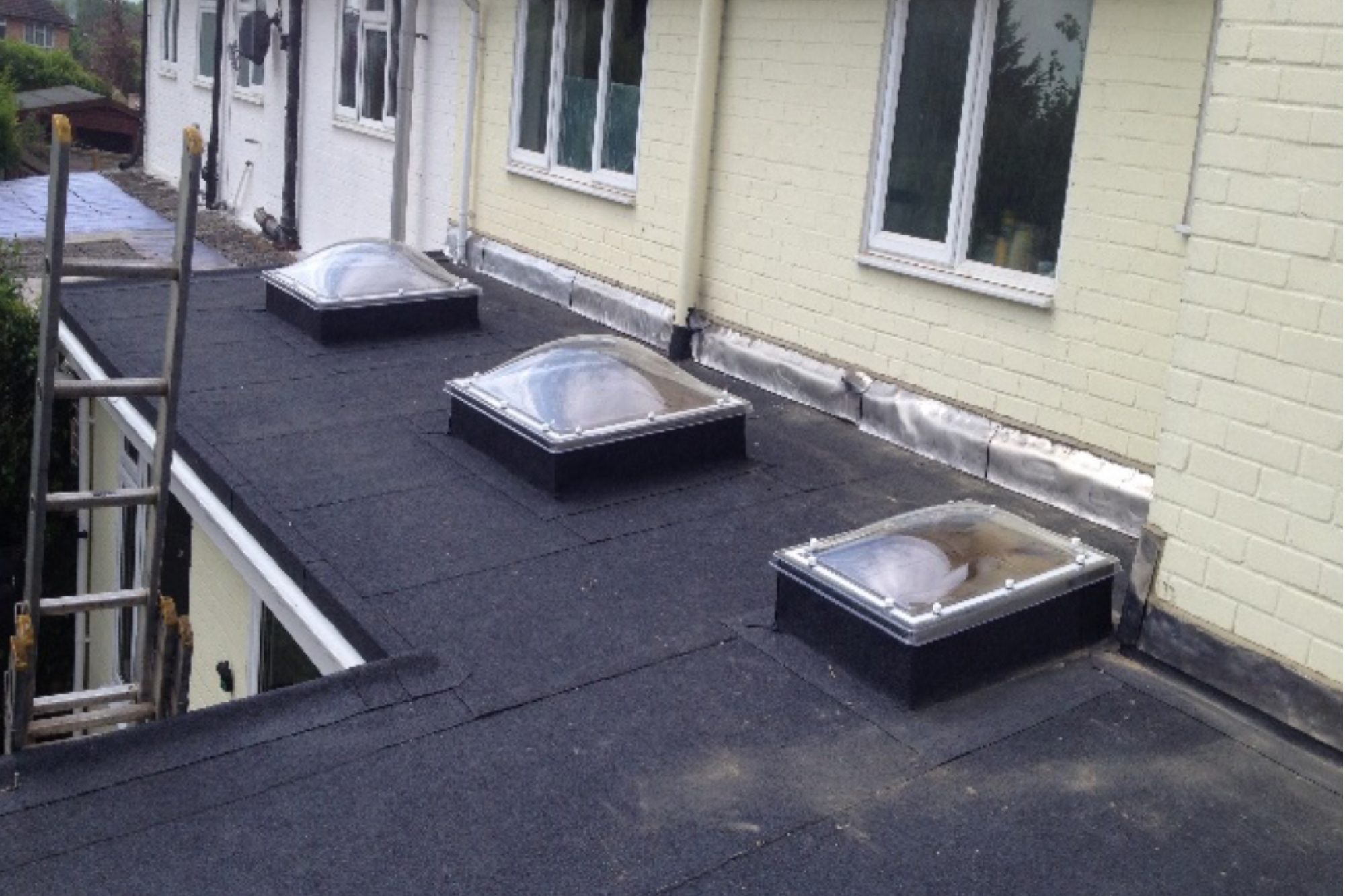 Torch-on Felt
Torch-on-Felt is another of the famous flat roofing systems. It involves the job of our roofing specialists applying one layer or potentially two or three layers of bitumen by a gas torch to form the roof coating.
Torch-on felt roofing is a quality, highly cost-effective method that takes not much time and resources in the installation process.
Torch-on Felt roofing is an improvement of the previous mineral felt roofing. This old but relevant technique involved applying hot bitumen and mineral felt onto a roof and rolling it flat.
However, technicians later discovered that the method was ineffective since the installation often left an unattractive finish and lasted for a short period.
However, the new roof version has some additional improvements. For instance, the roof systems allow the material to be peeled off and stuck to the roof surface leaving behind a stunning finish and these benefits with Torch-on Felt roofing.
It provides good protection during bad weather, is easy to repair, and is quick to install.
GRP Fibreglass Roofing
Glass Reinforced Plastic (GRP) is another good alternative for installing a flat roof. GRP roof materials are usually polyester resin and chopped strand mat glass fibre.
Although it is a relatively expensive option, it is ideal for not standard roofs in size and shape. The material is usually laid in two superficial layers leaving behind an aesthetic well-laid surface easy to repair.
Why choose flat roofing installation?
Flat roofs are an environmentally friendly, aesthetically pleasing and energy-efficient alternative to your average traditional sloped roof.
Flat roofs can pose a few issues compared to standard sloped roofs that could cause many first-time home builders or homeowners to turn away. However, many tend to look favourably on flat roofs because the flat roofs often offer easy property maintenance, energy efficiency, and versatility that sloped ceilings do not.
In addition, many Basingstoke home builders or owners enjoy the multi-facets of flat roofs that they can obtain at a lower cost value and long-term ownership.
Our roofing contractors can advise what best suits your home and align our customers with all of the benefits associated with Basingstoke flat roofing. All our work and advice ensures that you'll have excellent results and the necessary public liability insurance.
Many choose flat roof installation for commercial and domestic properties because it provides many companies and homeowners with lower repair costs and lower construction rates.
Flat roofs tend to take up a lot less space and use a great deal less material than any sloped roofs. Such makes the overall construction work services available for much lower prices and allows for savings and guarantees should any extensive relevant roofing repairs be necessary.
Flat Roofers Basingstoke Ltd roofing contractors focus on providing a very high standard of flat roof replacements and installations of flat roofs and chimneys. Contact us today.

Versatility is another reason for choosing to have flat roofs installed for any projects or properties. Several homeowners decide to turn their flat roof sections into stunning rooftop gardens.

A roof deck construction job is ideal for a flat roof in Basingstoke. They are a type of decking that can be a high-quality, beautiful addition to a household and provide you with additional protection from the weather and sufficient property maintenance. You can count on our contractors and professionals to do a good job.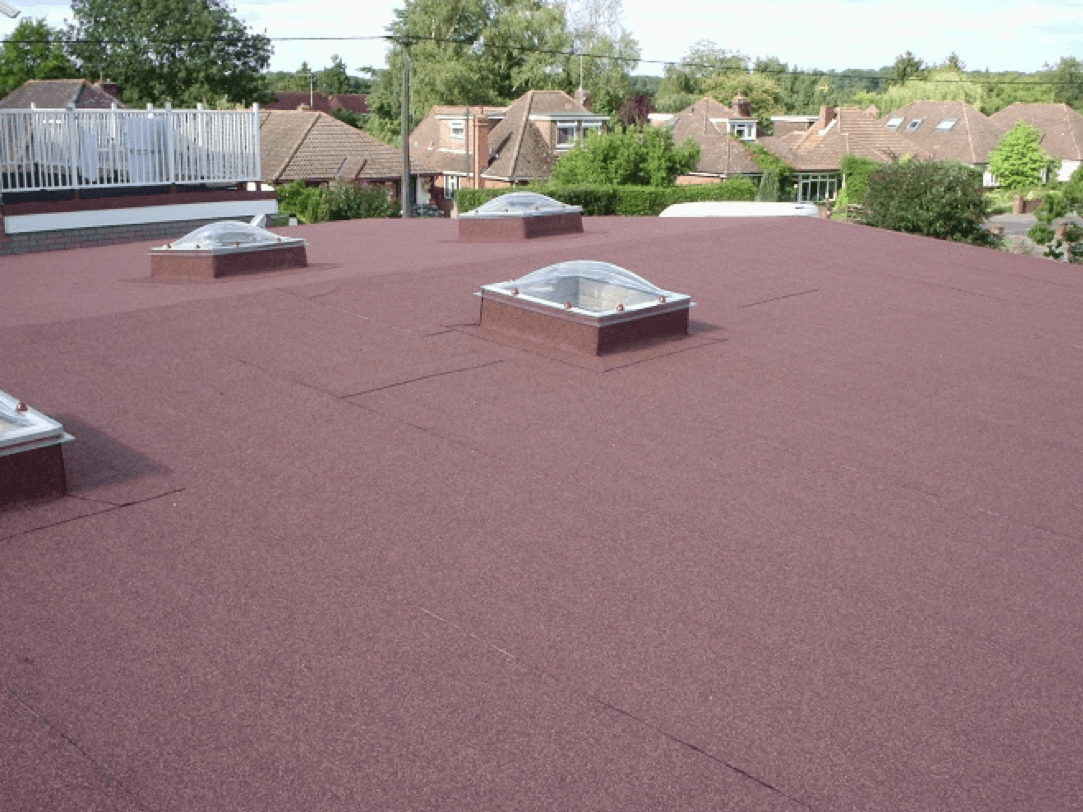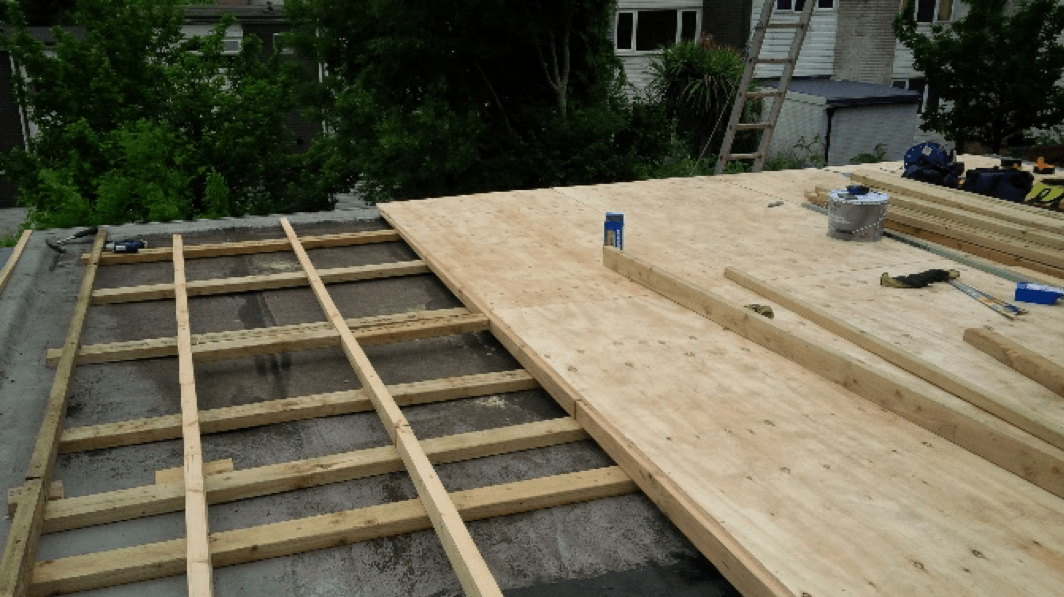 Our Basingstoke professionals and contractors can often fit or install soffits for further ventilation. Soffit boards serve a functional or aesthetic purpose for the buildings roof system.
The skin on the boards covers the eaves and rafter beams of your home to save them from being fully exposed. Soffits allow the building to ventilate, breathe, and make a fantastic investment for those in the middle of loft conversions.
Finally, energy efficiency is another reason home builders and owners select flat roofs. Maintaining home utility costs is vital when choosing any property type or appliance for the house or site, especially for warmer climates.
Often sloped roofs trap unwanted warm air into the place or frequently let the cooled air escape, leading to living an uncomfortable environment that leaves you too hot, too humid or too cold. Flat ceilings have excellent insulation; however, they curate less overhead space allowing air in new roofs to stagnate.
How do flat roofs work?
Flats roofs work through different angles and allow water and debris to run off the top and into the water gutter system to prevent property damage, leaks into your home and to keep a tidy roof.
The slope and pitch create the runoff. Puddles or water pools on top of roofs without pitched or sloped features form any detrimental roof damage and harm to the foundation of your home or your garage roof.
In addition, flat pitched or low-sloping roofs don't drain as fast as other roofing systems like steep sloped roofs. If water lingers on your household or garage roof, it could cause leaks or damage the roofing material.

---
Our hard-working roofers and gutters have plenty of years of experience, skills and qualities to undertake any roofing job to the highest standards and provide complete flat roofing and high standard repairing services for your home or business.

Over the years, we carried out hundreds of top-quality Basingstoke flat roofing jobs in the local and surrounding area.
Our Basingstoke Flat Roofers Basingstoke email address and contact forms are available on our website for use if you desire installations or advice for any residential or commercial properties.
On our first visit to your home or property, we'll do an initial assessment to determine any issues that require an immediate solution, and this will help inform us which roofing style and materials will be ideal.
Get in touch today if you are looking for flat roof installation in the South, Hampshire, Andover, Basingstoke and Winchester. Please call us 01264 551 007 for a free quote or more information from our skilled roofers.